5 Ways to speed up Windows 10
Windows 10 is the latest operating system launched by Microsoft. There are approximately 400 million peoples in the world who are using this fabulous Operating system at present. But sometimes, it happens that Windows 10 slows down and don't work properly due to overload or some heavy-duty software. Slowing down the computer is the biggest problem and source of frustration for the Computer users. A slowed-down computer is just a big problem in your professional work. If you are also facing this problem, don't worry we have a solution for you. In this article, we are going to tell you 5 ways to speed up your Windows 10. Your computer speed will surely increase and robust in the result of these 5 ways.
1. Changing Your Power Settings:
There are two kinds of Power plans offered by Windows 10, "Power Saver" and "High Performance" Plan. On the "Power Saver" plan, your computer works slowly to save power to limit battery usages. People usually use this plan to prolong their laptops battery time. But in the "Power Saver" plan, the computer usually slows down because it can't get the full power to work with its full functions. So, to increase the speed of your Windows 10, always turn off the "Power Saver" plan and turn on the "High Performance" or "Balanced" power plan, so your computer can work with full functions and instant performance boost. Setting these plans is very easy, just open the "Control Panel" and then click on the "Hardware and Sound" panel. When this dialogue option open, you will see "Power Options". In the "Power Option", you can select both the Power options.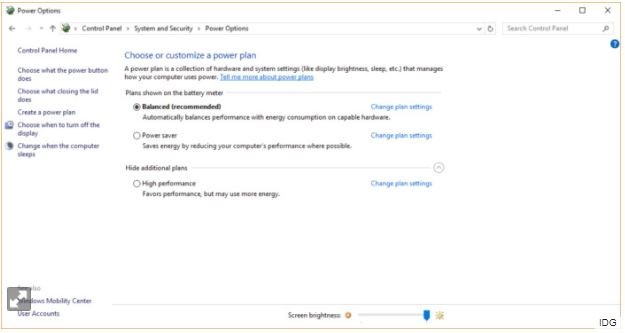 2. Optimization of Startup Programs:
It is one of the biggest reasons for slowing down your Windows 10. There are many programs and apps run in the background of the system of Windows 10, which slows down your computer. These background apps and programs start running on the startup of your Windows 10 and remain persistent with your work and affect your computer performance. Almost all these apps and programs are those which are rarely or never used by you. So, optimization of these startup and background programs and apps is very necessary. For doing that, just open to "Task Manager". For opening the Task Manager, press Ctrl-Shift-Esc. You will see a menu in the result of that key. You will see the "Task Manager" option in this menu, Open it. When the "Task Manager" window opens, you will see a "Startup" tab. By clicking this "Startup" tab, you will see all the programs and apps which will run on your computer on startup. Now, you have the choice to "Disable" or "Enable" the programs on the startup. To "Disable" a program, just click on it and you will see the "Disable" option. Click this option and your program will be disabled and will not run on the next startup. This way will surely speed up your Windows 10.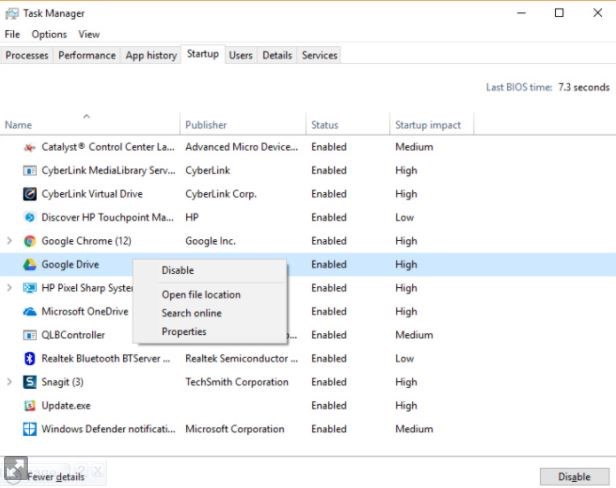 3. Shut off Windows10 tips and tricks:
Windows 10 has a very splendid feature of offering tips and tricks related to different topics and programs to its users. Sometimes this feature is very useful while it can slow down your windows at the same time. These tips and tricks are very general and even a person with very less knowledge about the Windows already knows about these tips and tricks. So, most of the time, these tips and tricks are useless for the user and it is just a burden on the performance and the working of the computer. Disabling these tips and tricks can help increase your windows speed. The procedure of shutting off Windows 10 tips and tricks is very simple. Just open your computer's "Settings" and then "Notification & Actions". Scroll down and uncheck the box of "Get tips, tricks, and suggestions as you use Windows". That's it, all the tips and tricks are disabled now.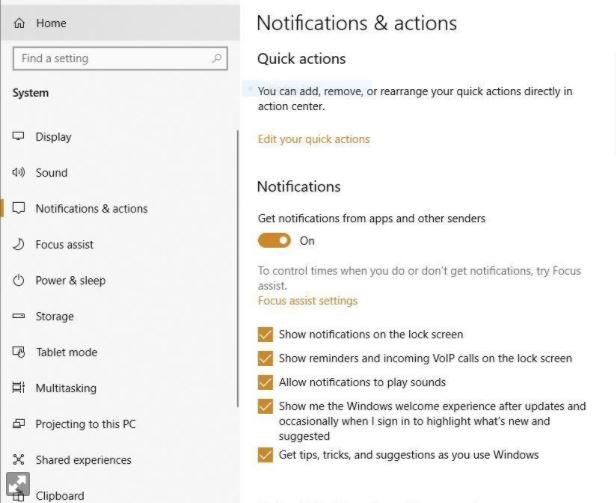 4. Stop OneDrive from syncing:
OneDrive is Microsoft's cloud-based file storage app available in Windows 10. Here you can save all your necessary files and keep them safe from unauthorized users. OneDrive is the best backup tool available in Windows 10. You can excess these files whenever you want by just opening OneDrive and opening the desired file. You are wondering that how OneDrive keeps the files ready for your use? Well, it is done so by syncing the files continuously. The syncing process of OneDrive can slow down your computer and for the fast speed of your Windows 10, you have to disable the syncing of OneDrive. The disabling or pausing of the syncing of OneDrive is easy, just go into the notification area of the taskbar at the right bottom corner of your screen and right-click the OneDrive icon. You will find the option of pausing the syncing of OneDrive according to your time limit.
5. Cleaning Your Hard Disk:
Cleaning your Hard Disk is another good way of increasing your Windows 10 speed because there are many files and programs present in your hard disk which are slowing down your computer. So, cleaning your hard disk from these unnecessary files is important. The process of deletion of these unnecessary files is really simple, just open your hard disk and delete all unnecessary files. Enjoy the fast speed of your Windows 10.
Thanks for reading the article.